Student Highlights
Darynne Dahlem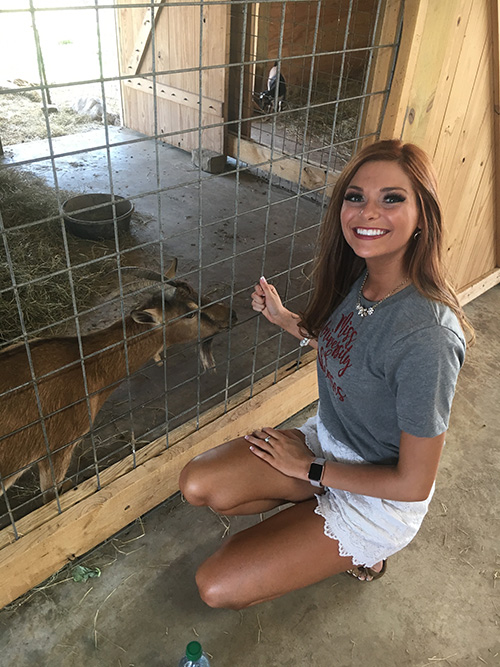 At first glance, Darynne Dahlem has a lot going. Within a few minutes of talking with her, she bounced from topic to topic seamlessly, discussing in detail her work as Miss University of Arkansas (U of A) and then to talking about how she hopes to plan more social events for Bumpers College Honors students. When I caught up with her before a class, she flew through her interests and made it clear that while she is very active in a variety of organizations both on- and off-campus, she manages to give each of them 110%. "I hate only showing up at a meeting just to say I was there," said Darynne. If I'm going to be involved, I want it to mean more than just adding it to my resume."
While she is extremely involved around campus through her membership in the Tri Delta sorority, being Miss U of A for the past year, and a former anchor for UATV, her passions really lie with the organizations she currently champions and plans to continue supporting after graduation. As a participant in the Miss Arkansas and Miss America pageants, Darynne's platform is one close to her heart: "Know Who You Are" is the organization that she started herself that originated as a way to combat underage drinking. However, this platform is more about having a strong sense of self for all the pressures students face in high school and college.
"Developing an understanding of yourself, developing self-love, and having the ability to stand up for who you are and what you believe in is really important to preventing underage drinking and promoting independence," said Darynne. This cause has great personal meaning for Darynne, as her sister has struggled with alcohol abuse and addiction since the age of 16.
Her other passion is why she is a Dale Bumpers College of Agricultural, Food and Life Sciences student at the U of A. After graduation from her undergraduate degree, she plans to apply to vet school. Darynne hopes to open a self-sufficient shelter and clinic for animals in Arkansas. When she volunteered in a veterinary clinic in her hometown of Greenwood, Ark., she noticed many animals coming in that were simply not cared for or not receiving the base care they needed.
Written by Courtney Cooper